Tired of Counting Calories? Want to lose weight?  Build muscle?  Maintain your workout results? The Portion Fix is a healthy meal plan for you.
The Portion Fix® is an easy-to-follow portion control system that complements any fitness program.
Simple nutrition – if it fits in the container, you can eat it
No more guessing, weighing, or counting calories
Easy-to-use color-coded food containers + a shaker cup
Includes an Eating Plan with recipes, tips and more
Eat Right to Meet Your Goals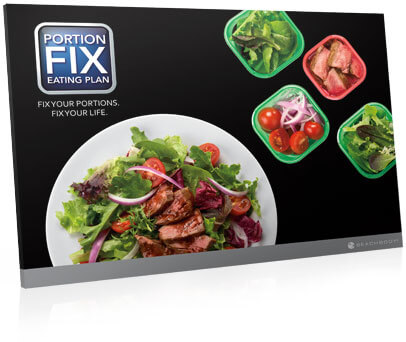 The Portion Fix Eating Plan will show you step-by-step what to eat and how much. You will fill your containers multiple times a day depending on your starting point and goals, so you'll never eat too much (or too little).
You'll even learn how to incorporate dessert and wine into your lifestyle – the right way – so you get the best results without giving up the foods you love!
You don't have to eat directly from the containers.
Create delicious meals by tossing all your ingredients into a bowl to make a healthy and filling pasta or salad!
Delicious Recipes that Yield Fast Results
Portion Fix comes with numerous popular and mouth-watering recipes that are quick and easy to prepare.
Includes healthy recipes for:
Seasoning Mixes
Dressings
Veggie Stir-Fry
Cumin Tempeh Strips
Baked Chicken Breast
White Fish
Beef
Eggs
Brown Rice
Quinoa
Lentils
Beans
Sweet Treats
And More!